As this stage of the Resilient Me programme wraps up, it is time to reflect on everything we have learnt and every young person we have met along the way.
This programme gave us the unique opportunity to work with groups of Young Muslims within schools and community organisations, to help them understand how their faith and culture contributes to wellbeing as well as helping us, as professionals, to understand what young Muslims are the most worried about. Through this series we aim to explore some of the themes young people discussed.
Although the schools and groups of young people we worked with were very different, with different levels of needs, from different Muslim backgrounds, there was one concern that we consistently came accross in every group –
Safety
Safety was the top concern of young people. When asked to describe or draw their local areas many young people spoke about feeling unsafe in public spaces
"I only feel safe in my home, actually in my toilet"
"Is anywhere in Newham actually safe"
Young people accross the boroughts we worked in specified parks as places they feel particularly unsafe
"There's drunk people that shout things to you"
"In Plashet park there's people hiding behind the trees"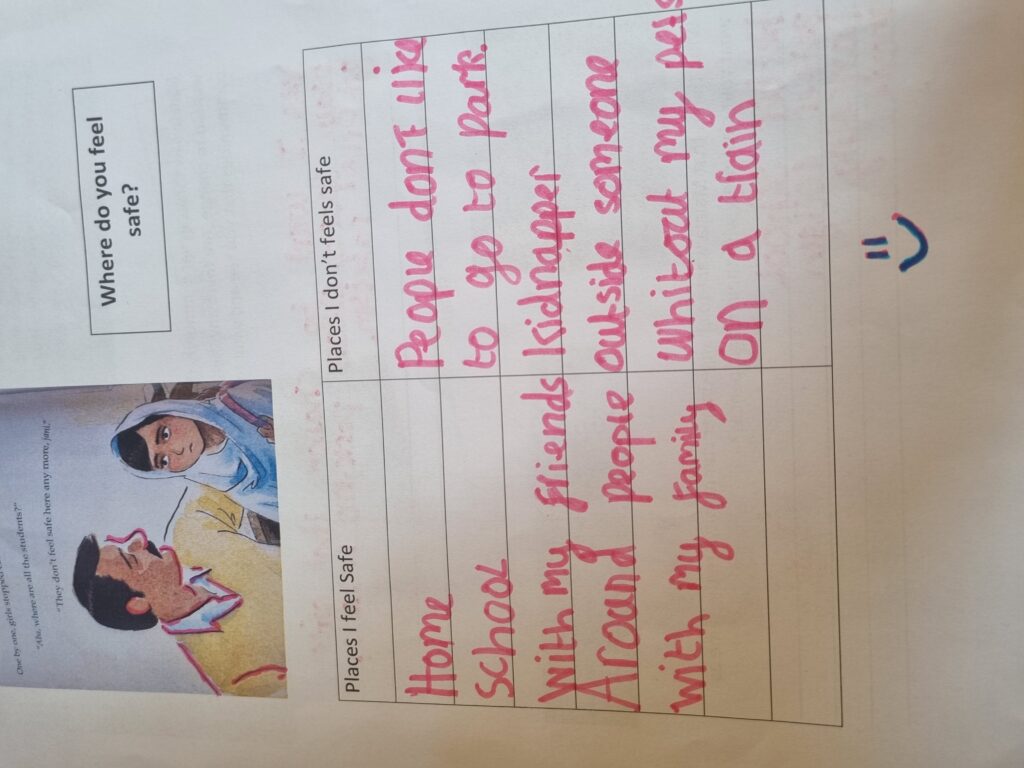 They also spoke about youth violence
"Boys got robbed going home from school by another boy from school, they had his phone covered and had a knife. Another boy he didn't have anything so he took a trading card"
These may be things that are common to many groups of young people and can have a significant impact on wellbeing.
Lack of access to safe outdoor spaces can obviously prevent young people becoming involved in sports and socialising leading to a negative impact on wellbeing.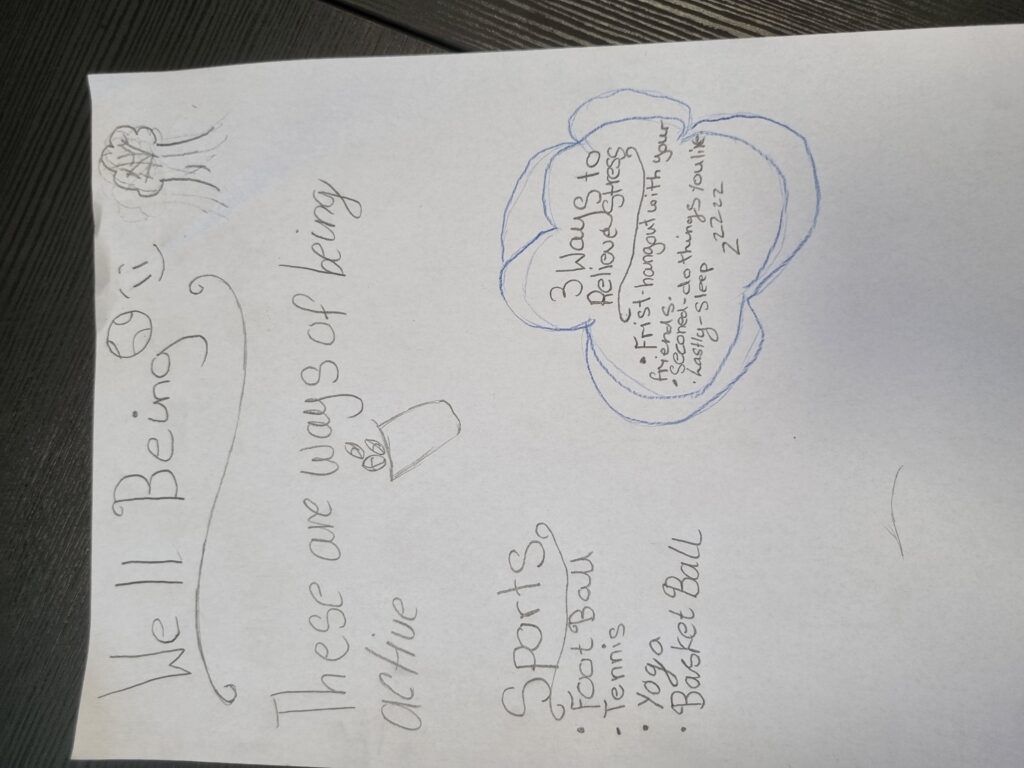 Being Active, Staying Connected and Taking Notice are all proven ways to support people's wellbeing that can be fulfilled through trips to the park, alone or with friends.
This problem is exacerbated when young people don't have access to outside spaces in other parts of their lifes, such as not having a garden at home or playground at school.
One of the schools we worked with also had no playground access and also did not feel safe going to local parks. Young people in this school were able to identify the ways this impacted their wellbeing, learning and behaviour.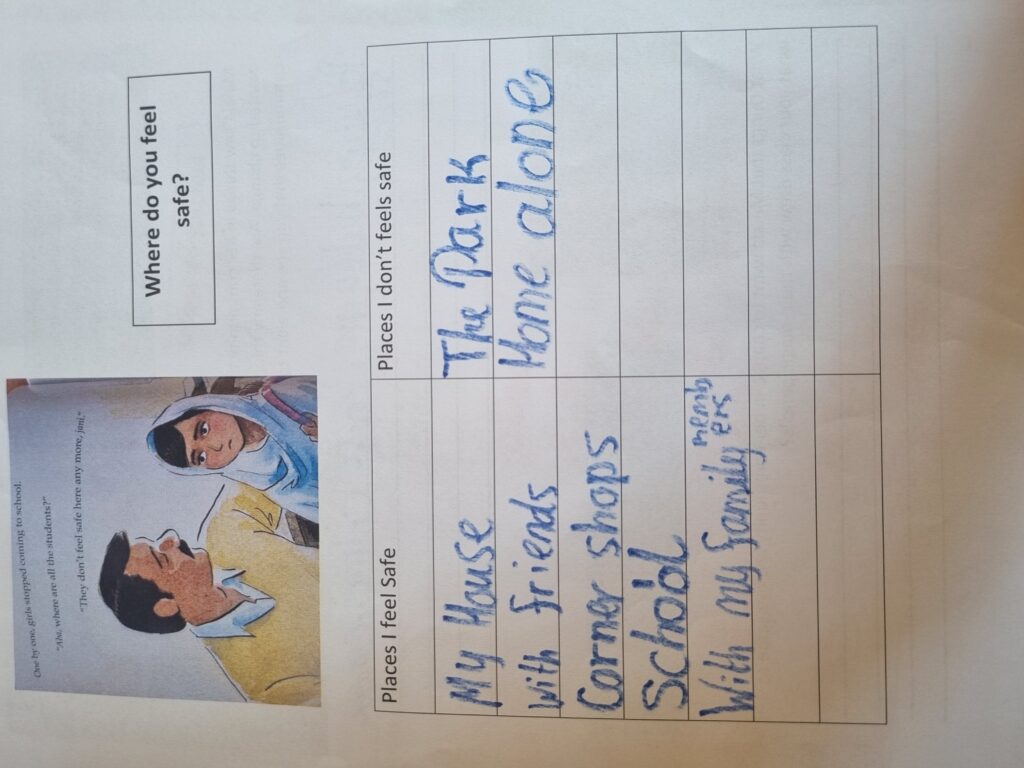 Because we don't have a playground:
We have too much energy which leads to more declasses and being sent to isolation.
We can't focus and concentrate in lessons
That's why we play with the ball in lessons, we have no where to play
We are upset children
We have no ways to express ourselves
More instigators (of "bad" behaviours") in lessons
More dententions
More frustrations between students, fights and conflicts
If we had a playground:
We would have more space for games and sports
We would have fresh air
We would be healthier and more active
We would get more exercise
We would get our energy out and our behaviour would improve
We would have more fun
We would get to know the teachers better in a different way
We would be able to build our own relationships and friendships
We would have a place to socialise and communicate with each other and make bonds
Our wellbeing would improve
Young people also did not feel safe on public transport, walking home from school, and around local High Streets and Stations. This limits the places young people have access to and as a result young people stay at home.
Young people were able to identify places they felt safe, this included their local corner shops where they know the shop owner, when they are with family, when they are in exteneded families homes, and at mosque.